Tucked away down a country lane in rural Worcestershire, Bluebell Retreat Glamping is a small, private glamping site that provides guests with the opportunity to live in harmony with nature and enjoy the tranquillity and beauty of the countryside at the foot of the Malvern Hills.
Set within 3.5 acres, the site currently offers 3 visually attractive glamping pods and a Shepherd's Hut. All 4 accommodation offers are set in woodland overlooking a meadow and pretty pond, whilst surrounded on all sides by farmland, fishing lakes and private woodland area. All accommodation is equipped with luxury beds and other touches of home comfort including heating, tv, dimmable lighting, silent fridges and tea/coffee facilities. First-class toilets and slate-tiled showers together with a fully equipped kitchenette are situated within the woodland a short walk from the pods.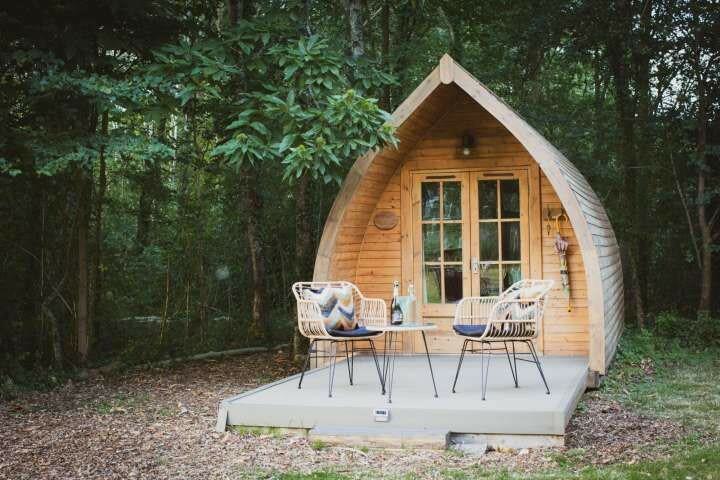 Our new business venture began in 2021 with no previous experience within the Tourism Industry or indeed running our own business. During our first short season we further developed and built the business, communicating and listening to our guests, we made some changes and received lots of amazing reviews!

It was actually from comments made by guests that we had the inspiration to look in to becoming a wedding venue and decided to develop a new Festival Wedding offer for 2024 onwards.

The advice and guidance that we were fortunate to receive from Nicky has given us the insight and business tools to build on this new concept and now feel more confident and equipped to launch our wedding venue for 2024 bookings.

Our future goals are to provide a bigger package to a wider audience. We envisage 2024 for Bluebell Retreat Glamping to be a site for venues, weddings, experiences to remember and dreams to come true.
"Nicky you have been an inspiration and a huge source of information. You have allowed us to take the bull by the horns and given us the confidence to achieve our future goals."

Results
• Express and talk through initial concerns.
• Define what we actually wanted to achieve by researching our market.
• Gave us a focus and the confidence to move forward.
• Refine our thinking to develop a strong, festival wedding proposition.
• Work through different operating models to identify the one that we believe will be most efficient for us in the short and medium term.
• Look at how to model different financial scenarios to aid our thinking
• Utilising online resources to promote our existing glamping offer
• Develop a clear understanding of how to incorporate our new proposition into our existing offer so that it will be complementary and not negatively impact our existing business.
To find out more about consultancy support or wider opportunities of working more closely with Visit Worcestershire, please email here2help@vfthconsulting.co.uk