They have developed the site so that in addition to the vineyard, it now offers 3 beautifully crafted Shepherds Huts to welcome guests. It is the perfect place to relax and unwind as well as being a haven for wildlife such as hares, geese, deer and of course Wagtail birds. As a couple, James and Chloe decided to build the Shepherds Huts so that other people could enjoy the beauty of their home – from the timeless views of the Malvern Hills, to wild swimming in their lake and watching the comings and goings of the local wildlife.
Each hut is larger than average, 10' x 24', and has been built using sustainable materials such as Welsh sheep's wool for insulation and solid wood for both the indoor flooring and the outdoor deck areas. They sleep two people, have a king-size bed, stylish shower room, sofa and fitted kitchen area. There is also a log-burner as well as an outdoor bath and fire pit, so guests have everything they need to switch off, watch the wildlife and enjoy a glass of wine as they look out across the views of the vineyard and lake.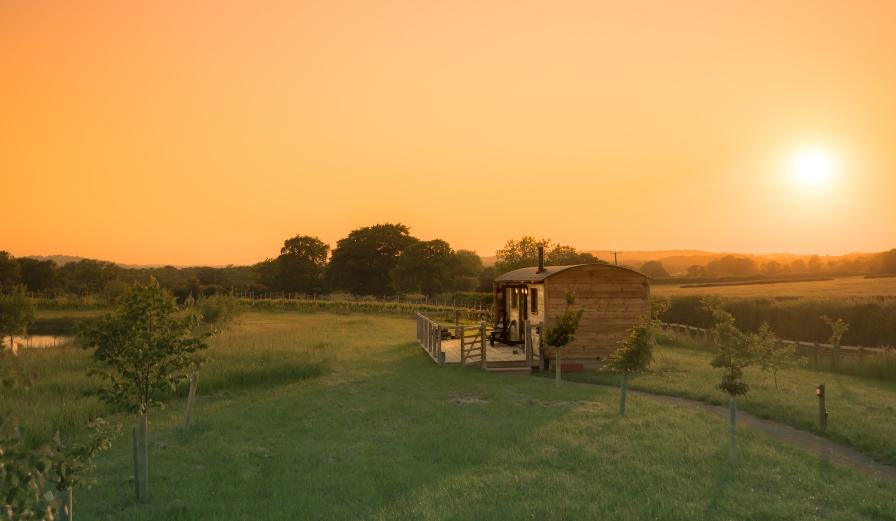 James and Chloe needed support to help them develop their main proposition – using the Here2Help consultancy to identify their core target market, market differentiation and marketing approach. The sessions also supported the development of their website.
"We were so grateful for the help we received on this new venture. Nicola Hewitt was fantastic to work with, her help with the direction we needed to take, the structures we needed in place. Also Nicola's insightful knowledge of Worcestershire, its businesses and the surrounding area was a terrific help, We have learnt a lot and greatly benefited from the sessions received. Thank you "
The consultancy helped us to:
• Challenge our thinking to ensure we could launch a clearly differentiated product onto the market.
• Work through all the steps needed to bring our new accommodation offer to market.
• Review competitor offerings to identify appropriate pricing models.
• Develop our social media presence and activity.
• Look at how to combine the accommodation offer with our vineyard, and sales of wine.
• Develop our website.

As a result of the consultancy, we are now confident in our ability to launch our huts onto the market in Summer 2023.

To find out more about consultancy support or wider opportunities of working more closely with Visit Worcestershire, please visit https://www.visitworcestershir...