How do you start a normal working day?
I usually start early at home on my laptop with a coffee, responding to emails, updating spreadsheets, ordering stock, etc. I'm generally at the café bar from 8-8.30ish doing the glamour jobs like sweeping Copenhagen Street, taking in the bins, and setting up the bar. This usually involves some socialising in the street with our neighbours Journey, The Kiln, Sub Studio Photography and the Oilbasin.
Tell us about your attraction/business?
We are a Belgian Beer Café in the heart of historic Worcester, offering cool vibes, c.100 Belgian beers, frites, waffles, bitterballen, croque monsieur & more Belgian inspired cuisine. We play top tunes and also serve natural wines, spirits, great coffee & take-outs.
What is your favourite thing about the attraction/business?
This is tricky. I love so many things…. our team, our customers, and our quirky décor, but if you force me into a corner, I'd have to say the beer! We have such a broad beer menu with so many distinctive offerings and are pretty unique in that we are official ambassadors for Orval, Duvel and Chouffe beers!
How do you retain staff and keep motivation levels high?
Communication is big for us. We talk as a team and share problems, issues, and laughs! We have a diverse team with an honest, open and supportive culture. We give additional reward when team members go 'over and above', and most of all, we just all really get along!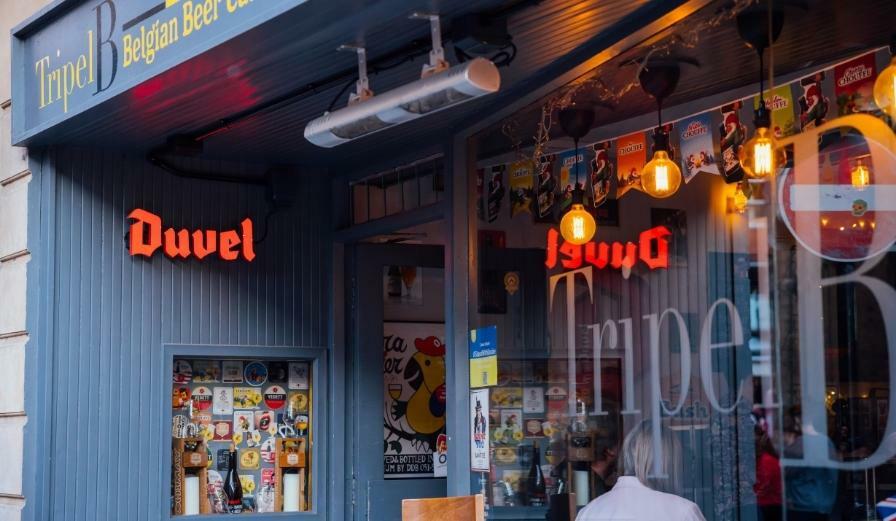 How do you market your business?
My main tool is social media and we have a decent following on the main platforms including Facebook, Instagram, and Twitter. I regularly showcase our team, our venue, new beers (this always attracts a lot of interest!), our events (live music, comedy, beer tasting, 'meet the brewer', Orval Day, Chouffe Day, etc.) and of course, our beautiful city.
What puts a smile on your face at work?
I apologise in advance for not limiting this to one answer! Depending on who I'm working with, I might be smiling at their singing, or at their requests for relationship advice, or their excellent taste in music. Certain customers walk in and just bring the sunshine with them – I love seeing these people regularly. Most of all though, it's the recognition we get from the people who REALLY know their beers. Some true aficionados have said some really nice things about TripelB – particularly the beer list. We regularly get customers travelling the length and breadth of the country to stay the night in Worcester, just so they can enjoy our unique beer menu, and we also get a good deal of Belgian and Dutch customers in for the beer and the Bitterballen!
If could give one piece of advice to a similar business, what would it be?
Put love into your work. Care as deeply for your business as you would your own child! On a more practical note, make sure you tap into all the amazing support you can get, from the likes of Visit Worcestershire, and the Worcester BID. OK, that was more than one. Sorry!
How do you unwind at the end of the working day?
Depending on the day, it might be through martial arts (I've been training for 34 years!) or other exercise, but very often it's via a Belgian beer on the sofa with my (very patient, understanding) wife!